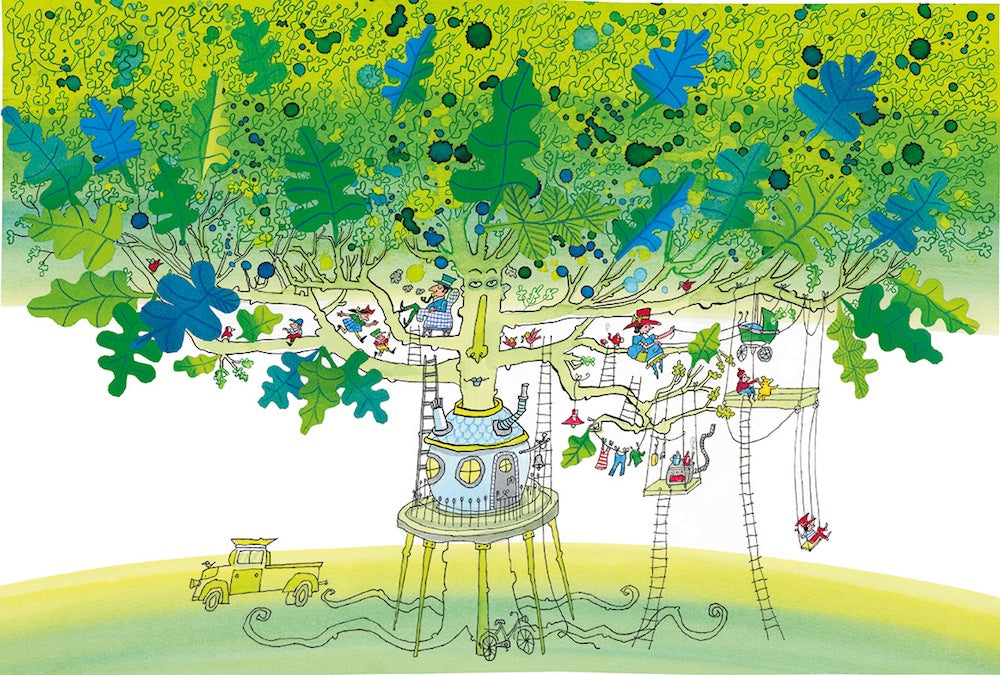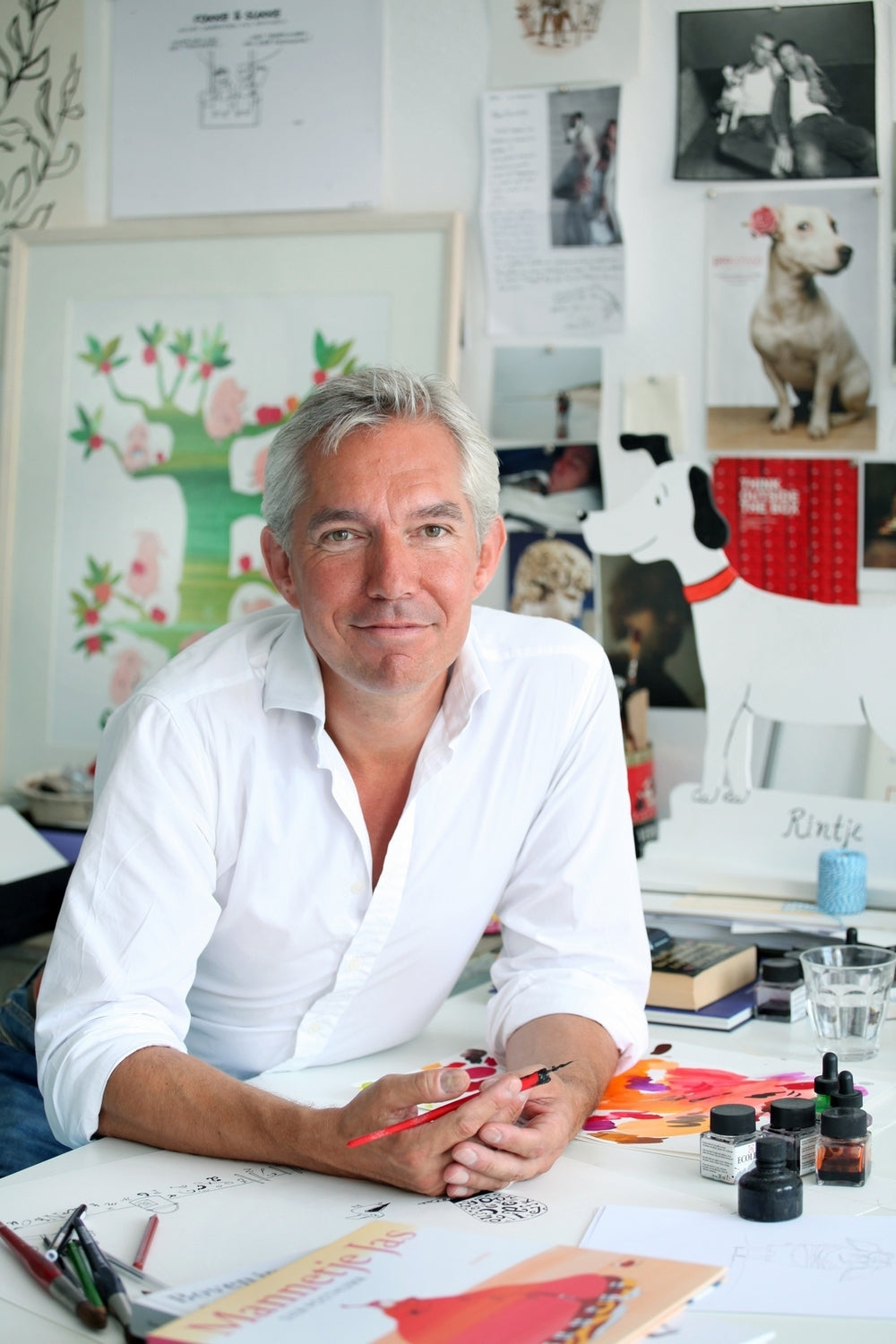 Legacy Sieb Posthuma
Sieb Posthuma (1960-2014) has left a comprehensive oeuvre that extends to many disciplines, including designs of postage stamps, costumes and stage settings for theatre and large murals. Also he wrote and illustrated numerous children's books. His style is characterized by the exuberant use of colour, graphic elements and humour.
In 1987 he graduated at the Rietveld Academie in Amsterdam. After his studies he soon found a job as a freelance illustrator for newspapers, opinion magazines and publishers. Sieb illustrated book covers for wellknown authors, such as Simon Carmiggelt and Thomas Mann and made illustrations for print media as Vrij Nederland, Trouw, HP De Tijd, Elle Magazine, Italy Magazine and NRC Handelsblad.
In the nineties he started to write and illustrate for children. One of his most famous creations is Rintje, based on his own fox terrier. Besides various picture- and read-aloud books, Sieb wrote and illustrated a story about Rintje every week for NRC Handelsblad, for more than ten years. An animated television series of 26 episodes on Rintje, produced by Lemming Film, will be released in 2017.
award-winning books
Sieb won several awards, including the Gouden Penseel (Golden Brush, best Dutch illustrator) for Boven in een groene linde zat een moddervette haan (2009) and Een vijver vol inkt (2012). With Feodoor heeft zeven zussen he won the ZIlveren Penseel (Silver Brush) in 2007. His work was awarded multiple times with the Vlag en Wimpel (honorary mention): in 2002 for Rintje, in 2005 for Peter en de wolf and in 2010 for Aadje Piraatje (Little Captain Kid). His works in NRC Handelsblad earned him a Silver Award of The American Society of Newspaper Design.
theatre design
Since 2005 Sieb started focusing more and more on theatre design. For the Diaghilev Festival in Groningen he designed a canvas of a thousand square meters. In 2008 he designed the stage setting and costumes for the performance Coppelia, in request of Het Nationale Ballet. His designs received unanimous favourable reviews by the press: 'The designs by Posthuma are a milestone in the history of ballet'(NRC 2008). In december 2016 Coppelia will be brought to stage again at Het Muziektheater in Amsterdam. After Coppelia Sieb designed the stage setting and costumes for the musical theatre production Mannetje Jas. This production is based on Sieb's own picture book by the same name. In 2014 he made the illustrations for the musical performance De Uilenpriesteres van Orplid, a fairy tale written and performed by world-renowned mezzo-soprano Christianne Stotijn.
international
Sieb's work is published in several countries, including USA, Brazil, China, Germany, Japan, France, Spain and Portugal. There have been various expositions about his work, both national and international: in London (OXO Tower), the Rijksmuseum in Amsterdam and at the Gemeentemuseum Den Haag. In 2013 the Letterkundig Museum in The Hague organized a big retrospective exhibition titled Een vijver vol inkt. In 2014 one of his works was selected by the Society of Illustrators in New York for their Original Art Annual Exhibition.
future
The imaginative and colourful oeuvre of Sieb Posthuma lives on. Rintje on television, Coppelia at the theatre, book publications abroad. His website provides an overview of existing work and reports about the developments of his work in and outside the Netherlands.

© photo Dorien van der Meer